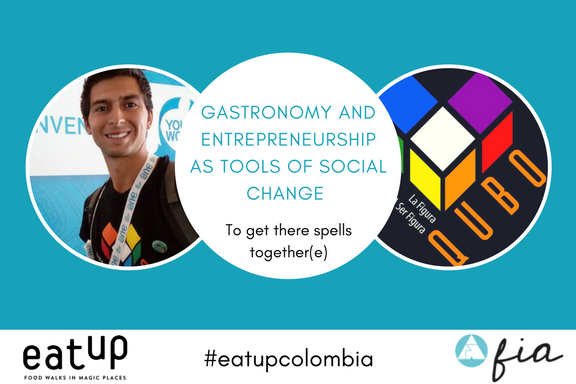 Some weeks ago we had the pleasure of interviewing David Medina Andrade. An innovative social entrepreneur and psychologist, he graduated from Fundación Universitaria Konrad Lorenz and founded his own organization to improve the mental health of adolescent victims of armed conflict. In their first year, they were awarded the prize fellowship Young Leaders of the Americas Initiative created by former President Barack Obama.
Fundacion Qubo partner of Eat Up in Bogota.
The Foundation will provide hosts for the 10 stations in Bogotá. The main goal of the alliance is to promote new ways of enjoying gastronomy as a cultural expression and empower Colombian teenagers to use their talents and gain social and cultural benefits.
One of the main goals of Eat Up and Food in Action is to improve the world we live in through gastronomy.
What is Fundacion Qubo?
Fundación Qubo is in honor of Rubik´s cube, in gratitude for his creativity and for developing intelligence with his game. Fundación Qubo empowers adolescents and young people by teaching them entrepreneurship, innovation, and Civil Rights to influence the government, private companies and civil society. We believe that young people can develop projects and their companies as well as obtain a better impact and influence when they know how to obtain financial and technical resources from government, private companies and civil society to make their dream come true and do what they really want to do, not what life offers them.
Why entrepreneurship, innovation and Civil Rights (Human Rights)?
Entrepreneurship is the essence of human being. To seek objectives, opportunities, persuasion, independence, and trustfulness are competencies that all human being use to get what they want. However, sometimes they use them only to do what they have to do because of a lack of resources. We want and believe that they can accomplish their dreams, even if they do not have the means, the leverage, and power to do it.
Innovation, because, time demonstrates us that every second, things are changing. We cannot solve a problem with old initiatives that have failed. We need to constantly reinvent to obtain betters results.
And Civil Rights because as a human being you cannot be an entrepreneur and innovator who does not respect other's freedom and discriminate others due to their sexual orientation, sex, gender, religion, race, nationality. As an entrepreneur, you must see just knowledge and abilities to work with the people, not what they think about politics or who they love.
How will an education promoting entrepreneurship help young people in Colombia?

Youth Unemployment was 15.8%  in 2017. It is one of the highest rates in Latin America. If we teach young people how to avoid to be unemployed, and furthermore, how they can achieve their dreams and gain experience with their projects, we are going to decrease this rate.
Who are your partners?
This project is being developed with the support of Constructora Bolívar (Bolívar Construction Company), one of the companies belonging to one of the most important economic enterprise groups in Colombia, called Grupo Bolívar.
Qubo did an alliance with this company to work with the residents of complexes built by Constructora Bolívar: 30 adolescents and young residents of Parque Campestre (Countryside Park) in Soacha, Cundinamarca, a village with several problems of criminal gangs, extreme poverty, micro- traffic and forced displacement. Our objective is to co-create at least 5 projects to benefit their community and benefiting themselves with the incomes that will generate those social enterprises, while they are learning basic knowledge about gastronomy. Besides, this project will be supported by Sena and its trainers who are going to teach them how to cook.
What is PazArte el tazón and why did you choose gastronomy as a tool to train the participants of the course?
PazArte el Tazón is a program to train adolescents in entrepreneurship and innovation thought gastronomy. It uses dialogue in the kitchen as a tool to obtain new solutions to problems in their communities. Gastronomy is a cultural expression. Not everyone likes sports but everyone eats. And gastronomy is not just the study of food. It is about why people use restaurants to make meetings or bars to do business.
We believe that gastronomy is a cultural art belonging to everyone. Gastronomy is about relationships, created when people cook and eat, so, it is a great tool to train our participants with UnderStake methodology.
What do you think about the collaboration between Food in Action – Eat up and your NGO?
I see in Food In Action and Eat Up the entrepreneurship. I think that this collaboration will provide us with a new experience. We will learn how to better use gastronomy to empower and motivate teenagers who like cooking and create projects.
Through this partnership, Fundacion Qubo offers a first job opportunity in gastronomy to the teenagers he supports. As for Food In action, the company continues its commitment to sustainable, socially inclusive food.
Find more information on Eat Up – Food walks here
More information on Fundacion Qubo here (in Spanish only)
Edited by Maïssoun Chami