The Great Nordic Feast, EatUp, Flowfood and Estefanía!
Things are moving fast for Food in Action Company Group at the moment. After the success at Southbank centre in London with The Great Nordic Feast, created and managed by Food in Action in the end of 2017, we're now moving from clarity to clarity. Building new strong sustainable food concepts and brands – is really our thing! To manage this, new co-worker Estefania and new business partners have joined the group!
With more than 1400 people enjoying breakfast, lunch and dinner (over 4 days). Nearly 30 magic chefs and bakers from Nordics & UK cooked up a fantastic feast. By following an organic strategy for communication, based on Nordic core values, we managed to reach out way beyond what any PR- campaign can possibly do.
The #nordicfeast reached 1,7 million users on Twitter and 685 000 users on Instagram
Publicity reached 107,5 million in the UK with 39 media including 2 broadcast, 13 national, 10 regional & 14 social media
To get there spells together(e)
Eat Up is Food In Action's latest concept.
Eat Up – is a daytime culinary/culture experience in exciting places, starting off in the middle of Scandinavia – and in Bogota, Columbia.
Eat up Food walks contains 10 stops and 10 taste sensations and in the end, a gathering with live music and an open bar. You will have the opportunity to enjoy the tastiest treats of good, local food at exciting places, created by passionate people.
During the walk, you'll meet and have conversations with other food lovers and invited creators and chefs. Eat Up will take you to shops, restaurants, cafés and crEATive places, initially in four different places: Östersund, Åre, Bogota and Trondheim. Follow Eatup on Instagram or Facebook
Flowfood is simply smart and healthy plant-based food. A new food product, Food In Action company group with new business partners Norwegian Algae and Richard Nystadt, are the developers of Flowfood's new products. They contain algaes and greens from the Nordic sea and soil. No GMO, no funny fungus, no processed soy. It's for folks that want to eat less or no meat. For a happy you and a happier planet!
On the 18th of February, you'll be able to taste Flowfood Mince at Gress Messen in Oslo . You'll find us on the stand together with Engros Frukt & Grønt.
From Barcelona to Östersund! Welcome, Estefania Coral – Food In Action's new co-worker!
Estefania is born and raised in Bogota, Colombia and recently moved to Östersund, Sweden via Barcelona. Why? – Well, I completely fell in love with the landscape, the purity of the air, the amazing food and the wonderful people, she says.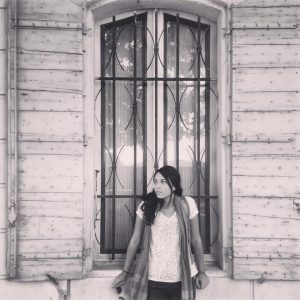 As a chef with a Master Degree in Culture/Arts Management and Diploma in social responsibility within agriculture, we're sure to fall in love with her as well! Sweden really needs talents like Estafania's -and we're happy to announce Estafania will be in charge of Eat Up food walks and do cooking courses for teenagers within Food in Action. She's also a wizard on SoMe if you need any help?